What is Interventional Spine & Pain Management?
Pain when diagnosed and treated correctly at the onset, will hopefully not end up becoming chronic debilitating pain. Interventional spine and pain management is a pain medicine subspecialty, where the focus is to use the latest interventional techniques including the use of Ultrasound, C arm or X ray image guidance to target the possible source of pain precisely. If we can identify the source of pain, then we can better adjust the usual conservative treatment options such as medications, physical therapy, modalities etc., to provide the best possible care for early resolution of pain. The goal is to avoid narcotics as the main source of pain relief both short term or long term.
To Request an Appointment...
Conservative Management First
At Crouse Interventional Spine and Pain Management we use a conservative non-narcotic approach to diagnosing and treating pain. We start with a thorough clinical examination, before we make any treatment plan.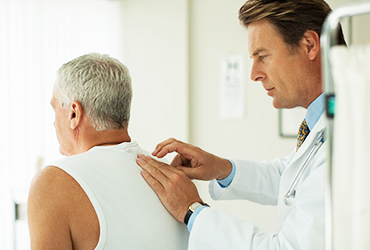 Then conservative treatment with non-narcotic medications, physical therapy and other such modalities are tried. We strive to monitor the progress constantly and make adjustments as necessary to achieve the goal of pain control without narcotics. If there is no improvement then we implement a program of diagnostic and therapeutic interventions which may include injections.
We have the ability to offer multidisciplinary treatment options when treating patients acute or chronic pain.
Experiencing Back Pain? Learn How we Can Help.
Conditions We Treat
Sciatica
Low back pain
Neck pain
Failed back surgery syndrome
Herniated discs
Complex regional pain syndrome
Painful peripheral neuropathy (from diabetes or other causes)
Painful nerve injuries
Painful herpes zoster (shingles)
Post herpetic neuralgia
Chest pain
Post-mastectomy pain
Headaches
Bone pain (Vertebral body compression fractures)
Cancer pain
Multi-disciplinary Treatment Options 
Crouse Medical Practice has specialists in neurology, neurosurgery, spine surgery, psychologists, physical therapists and chiropractors under one group.
We can offer multi-disciplinary treatment options including: 
Physical Therapy
Occupational Therapy
Use of treatment modalities including TENS/Ultrasound/hot packs/cold therapy
Behavioral Modification (psychological evaluation to include pain coping skills, biofeedback,
relation techniques)
Manipulative Therapy (Adjustments through osteopathic, physical or chiropractic therapy)
Aerobic exercise, massage, stretching
Co-adjuvant pain medications including NSAID'S, muscle relaxants, and nerve pain medications.
Neurology evaluation – EMG, Nerve conduction studies.
Neurosurgery evaluation
Orthopedic spine evaluation.
Interventional Treatment Options Available

Epidural steroid injections – Cervical, Thoracic, Lumbar, Caudal.
Transforaminal epidural injections
Spine Facet joint injections
Spine Medial branch blocks
Diagnostic Nerve Blocks
Sacroiliac joint injection
Joint injections – Hip, Knee, Shoulder
Bursa injections
Trigger point injections
Radiofrequency Ablation for spine joints and peripheral nerves
Lumbar Sympathetic block
Stellate ganglion block
Vertebroplasty & Kyphoplasty
Discography
Disc Decompression
Neurolytic blocks for cancer pain
Peripheral nerve stimulation
Spinal cord stimulation (trial and permanent implant)
Referral to specialists for surgical options if necessary.